THE CRUXIFICTION The pull of a powerful diesel heart greasy and generous as a locomotive her rails paired with circumstance Calvary,...
Continue Reading
We never went to the moon. Instead we grew roses and fed our neighbor pasta and fruit salad.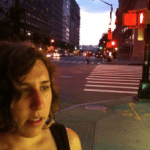 You showed me the exit, / the one that lets out on the pond / just in time to see the train glowworm / through the overpass to Hůrka. / I can't say what made it look so alive.