SELF-PORTRAIT IN A SEA OF USELESS TEARS I used to be a woman who cried over the useless bastards. Boo-hoo, I...
Continue Reading
The girl who made her bed in Rilke's ear gives her predictions for 2014.
Powell delights in double entendre, and emotes a paradoxically subtle campness. His voice often flits between in-the-know audacity and spiritual earnestness.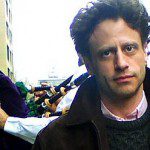 sweating the heat, lagged on a sagging couch, / springs broken and collapsed, the curtains drawn, / and saw receding from my distant childhood / an old film I'd loved from fifty years ago, / The Strawberry Blonde